Whoaaa hold the phone. No, literally get your phone out because you'll want to check out these new social media trends! Facebook, Twitter, Snapchat and, my FAVORITE, Instagram!
Social media is changing its look and features like Lady Gaga changes outfits. So many updates and new features for all you lovers of live sports feeds, live video streaming and who doesn't love a new face filter?! I'm here to give you the low-down on all these new #Top Trends and how companies are climbing the marketing ladder with these tools.
Check out our latest #TopTrends when it comes to the ever-changing world of #SocialMedia!
Click To Tweet
Facebook
How many of us go onto Facebook thinking we are just going to check our feed and see what is happening with our friends and family, but end up on Facebook for hours watching videos or live streaming feeds?
Uh..MEEEEE. I'll admit it, I expect to spend a couple minutes on FB to see what's up and next thing I know it's two hours later and I'm waist deep into my video feed or so concentrated on a live video feed of my favorite makeup artist. I forget what my purpose of getting on Facebook even was.
Well, things just got real with these Live videos. You can drag your friends into it now by adding them to a private chat while the video is streaming. You are also able to talk to each other about what's going on while it's live and then hop it over to messenger when the live video is over.
Did you know Facebook Live Videos are watched 3x longer than regular videos? Live feeds are becoming more and more popular amongst Facebook users because they prefer "in the moment" content.  
Another feature beneficial to companies is Live broadcasts. While live streaming, you can now invite guests to join your video. So while you are promoting, you can invite a client or another co-worker to join the party! Starbucks, Kohls, Sephora, and Mashable are just a few businesses using this awesome new feature to promote their latest and greatest products! If this doesn't impress you, wait until you hear what Twitter and Snapchat are bringing to the table.
Twitter
Twitter is your go to for quick info, random retweets and pretty much anything else you want to check out through a quick hashtag search or moments. Want to check and see what your fav celebrity is eating for lunch? Twitter is your spot. Need to check the score of the game while you're out to dinner? Twitter is your lifeline for answers.
But here is something new to Twitter that you can dive into, 16 NEW live content feeds! I'm talking all the sports, news and entertainment that your little heart can handle. Now, I'm not saying get rid of your cable just yet, but you can definitely get your quick fix throughout the day using that handy little Twitter app we all love.  Businesses such as Bloomberg Media, PGA sports, NFL, and IMG Fashion are 4 of the 16 businesses joining the live content feed via Twitter. By joining they are reaching a larger audience with social presence rather than just on tv or their website.  
Just go to your "search" tab in Twitter and swipe away to join in on your favorite feeds! These feeds will give you updates on all your sports, news, and entertainment daily. What could be more handy? Keep reading, Snapchat is giving Twitter a run for its money.
SnapChat
Snapchat has come a long way since they started, but you won't believe the new level they took it to. Snap Map. Yep, you heard me. Snapchat just released this new feature that is somewhat hidden within the app. Simply by going to the picture screen and "zoom out" as if you were zooming out of a picture.
Snap Map lets your fellow snap friends see where your location is, but it also lets you see theirs. Now, don't fret, your ex or boss can't stalk you on this if you don't want them to. You can choose who sees your location when you set up your Snap Map. This map isn't just for figuring out where all your friends are, but it's also set up to see snaps of popular sporting events happening, breaking news, or celebrations happening all around the world.  Curious what all the pros and cons are of this for your business?
Pros:
People can submit photos of your business to your story.  When you pop up on the map others with will be able to see that which will promote the latest of what's going on.

Helps people locate your business

Gives a live content feature for everyone (if you approve it on settings) to see, not just your followers

Exclusive, one on one connection with customers
Cons:
May not be worth the time if you are not putting up new and relevant content for your audience. Want to make sure your audience is wanting to click and open your snaps

You leave no trace on Snapchat, meaning your content is only up for 24 hours.  This can hinder you if you're not constantly adding to your story and making sure you stay on the map
All things considered, don't rule out Snapchat just yet. It is still considered a new social channel, so not all businesses are using it yet. You would still be having the upper hand when it comes to using Snapchat to market your business. Don't have your attention yet? Just wait, Insta is going to have you drooling over their new #TopTrends.
Instagram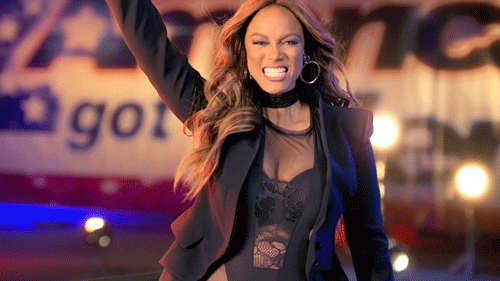 YASSSSSS! If you can't tell Insta is my fav app to use, and it's soon going to be yours! Okay, well maybe not, but it's definitely going to be in your top 5 after I tell you all the exciting things happening. Did you know that 20% of people will read text while 80% of people will watch a video with the same exact content? This means that marketing your business via Instagram is crucial to helping you promote in a way that appeals to customers.
Companies are using Insta's other new feature which is being able to add hashtags to their stories.  This is helping business become more accessible to their customers simply by adding a hashtag to their stories on Instagram. This lets viewers directly click on the hashtag and redirect them to the company's website. If you're feeling like you want to be inspired by an A-MAZING Insta check out Red Branch's to see what the #redbranchmafia is up to!
Now that I have you all up to date on your social media features. I'm sure you are curious how you can stay up to date on all things marketing. Get connected with us and subscribe to our blog!